Golden Triangle Tour with Corbett
Day 01: Delhi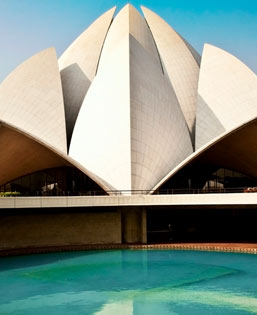 Lotus Temple - Delhi
On arrival at Delhi, you will be received by
Erco Travel's
representative. He will transfer you to the hotel for relaxation after a long journey. In the evening, you can stroll around the hotel or nearby areas. Come back to the hotel for dinner and overnight stay.
Day 02: Delhi
On 2nd day of the tour, after having a delicious breakfast, we will take you for a sightseeing tour of Delhi. There will be a combined city tour of Old Delhi & New Delhi which includes Qutub Minar, India Gate, Red Fort, Old Fort, Parliament House, Rajghat, Connaught place, Chandani Chowk, Jama Masjid, etc. Overnight will be at the Delhi's same hotel.
Day 03: Delhi - Mathura - Agra
This morning get up early to drive to Agra via Mathura. Visit Mathura's famous temples like Angrejo ka temple, Banke Bihari temple, Janambhumi, etc. Continue drive to Agra. On arrival at Agra, you will be transferred to the hotel for dinner and overnight stay.
BOOK NOW
Day 04: Agra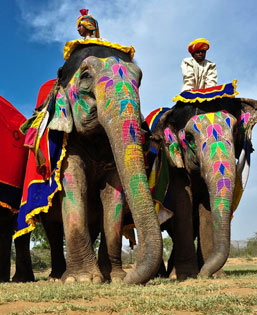 Elephant ride - Jaipur

On this day, we will take you for a city tour which includes Taj Mahal, Red Fort, Agra Fort and Itmad-ud-Daula Fort. Later visit the marble gallery which has an excellent range of white marbles. You can also do shopping from the famous market of Agra for your beloved ones to remember the trip in your whole life. Come back in the evening to the hotel for dinner and overnight stay.

Day 05: Agra - Fatehpur Sikri - Jaipur
On 5th day, after having breakfast in the hotel, we will leave for Jaipur en route visiting Fatehpur Sikri, a deserted, red sandstone city of Akbar. Also, visit the Buland Darwaja, the largest gateway in the world and then reach Jaipur (Pink City). You will be transferred to the hotel to stay overnight after a long hectic day.

Day 06: Jaipur
Get up early in the morning and after having luscious Rajasthani breakfast, you will be taken for a sightseeing tour of the famous pink city. The tour includes an elephant ride to Amber Fort, visit to Hawa Mahal, City Palace and Jantar Mantar. In the evening, stroll in the market areas of the city. You can purchase bangles from there as the bangles of Jaipur are famous all over India. In the evening, come back to the hotel for special Rajasthani dinner and overnight stay.

BOOK NOW
Day 07: Jaipur - Delhi
This day you will be transferred back to Delhi. On arrival there, you will be transferred to the hotel and rest of the day will be at leisure. Stay overnight in the Delhi's hotel.

Day 08: Delhi - Corbett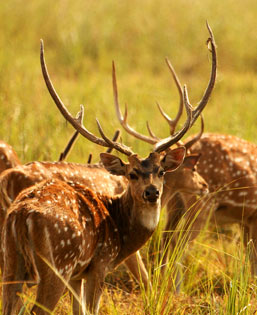 Deer - Corbett National Park
8th day will be full of fun and amusement. After having a delicious breakfast, we will drive to the Corbett National Park. On arrival there, you will be transferred to the hotel for some rest. In the evening, enjoy a jeep safari round of the park and see the rare species of animals in their natural habitat. Come back in the night to the hotel for dinner and overnight stay.

Day 09: Corbett
On the 9th day, again go to the national park and enjoy elephant safari and jeep safari to visit the national park. This park is famous for its variety of species of flora as well as fauna. Watch the birds chirping in the trees, crocodiles, lion, tiger, Leopard cat, Mongoose, Porcupine, Chital, Nilgai, Wild Boars, Hornbills, Barbets, Woodpeckers, Gharial, Cobra, Krait, Turtles, Tortoises and many more. In the evening, come back to the hotel for dinner and overnight stay.

Day 10: Corbett - Delhi
This will be the last day of the Golden Triangle Tour With Corbett. After having breakfast, we will drive to Delhi International Airport for your onward journey. Hope you will enjoy this tour with Erco Travel's team and remember it in your whole life.

BOOK NOW