Exotic South India Tour
Day 01: Arrive Mumbai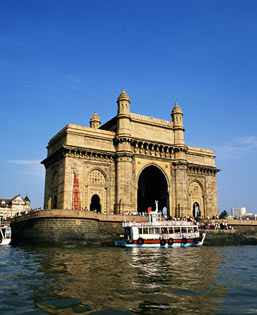 Gateway of India - Mumbai
Arrive Mumbai. On arrival, you will be met by our representative & transferred to hotel, where we will be holding the rooms on ready occupancy basis. After traditional welcome, check in into hotel. Overnight to be spent at hotel.

Day 02: Mumbai
Morning we have for you a half-day tour of: Gateway of India - The stone archway designed by Wittett in the 16th century. Elephanta Caves - 9kms by sea. These 7th century rock - cut cave temples dedicated to Lord Shiva are situated on the top a hill on the island. With everlasting memories of the day spend overnight at hotel.

Day 03: Mumbai - Goa
Transfer to airport to connect flight to Goa. On arrival transfer to hotel. Overnight at hotel.

Day 04: Goa
Today you will explore with us North Goa in the morning and South Goa in the evening. Overnight at hotel.

Day 05: Goa
Today is your day i.e. it is the day to relax. Where ? At the beautiful, refreshing and health prone beaches of Goa. Overnight at hotel.


BOOK NOW
Day 06: Goa - Cochin - Kerala
Today morning, you will board flight to Cochin. On arrival, transfer to Keraleeyam. Set & refresh into hotel. Then come with us and you will experience a whole new world out there. Canoeing around Keraleeyam, a visit to the Keraleeyam town and beach. Overnight you will spent at hotel dreaming about the day to come.

Day 07: Kerala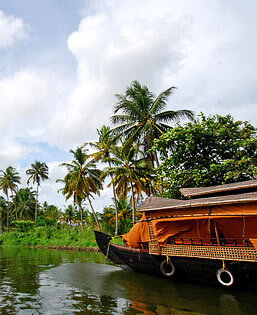 Houseboat - Kerala
Today in the morning, get refreshed & enjoy yourself with us at Backwater motorboat cruise, photo session in traditional Kerala costume. Cruising along the palm-fringed backwaters in a country boat is a one of a kind experience. The lively village of Kerala sideline the cruise route. Overnight you spend at hotel & relax.

Day 08: Kerala
Hey! Get up! Today you are going to experience something really lively & real. After breakfast you will experience a visit to a living Kerala village, the architecture, interiors furnishings, cutlery & dress. The air is pure and the environs calm and friendly. Dense vegetation makes the air oxygen rich. After that you will go for the "Kuttanad" Country boat cruise & do the trekking. Relax & spend overnight at hotel.

Day 09 & 10: Kerala
It's time for you to rejuvenate. Sanjeevanam the simple & complete procedure of rejuvenation therapy practiced in Ayurvedic comprises of Pizhichil, Dhara, Avisanam etc.

The major process involves:

Message with herbal oils.
Bathing in herb enriched steam.
Sanjeevanam offers the following benefits:
Restores the energy reserves of the body.
Reduces stress, strain & fatigue.
Relieves body aches.
Slows down the aging process.
Builds resistance to diseases.
Improves complexion & skin texture.
Reduces subcutaneous fat and controls obesity.
BOOK NOW
Day 10: Cochin
Transfer to hotel in Cochin. Day to enjoy the city atmosphere, which by many means is fabulous. Overnight to be spent at hotel.



Cochin


Day 11: Cochin
Hey! Be fast because you have to explore "Queen Of The Arabian Sea" Cochin has one of the most beautiful natural ports. Half the fun of visiting Cochin is getting about on the local ferries. Backwater Canal Tour, Jewish Synagogue - Built in 1568, the 400-year-old synagogue in Cochin is the oldest in the Commonwealth. The interiors have exquisite hand painted Chinese tiles and Belgian Chandeliers. St. Francis Church - The first European church in India, Chinese Fishing Nets - The huge, elegant Chinese fishing nets. Overnight to be spent at hotel.

Day 12: Cochin - Bangalore
Today is the day to say good-bye to Kerala & enter the vicinity of Karnataka. Yes! today you will be boarding flight to Bangalore. On arrival, check in into hotel. Get yourself refreshed & explore " The Garden City" you will see Vidhan Saudha, Nandi Temple - One of the oldest temples of Bangalore, popularly known as the Bull Temple, in Basavanagudi and Lal Bagh Botanical garden. Overnight at hotel.

Day 13: Bangalore - Shravanbelgola - Hassan
In the morning, after breakfast you will go to see the splendour of Shravanbelgola. 51 kms south - east of Hassan, this is one of most important Jain pilgrim centres. Here is the 17m high monolith of Lord Bahubali - the world's tallest monolithic statue. Get ready, have your lunch and head towards the destination, which has it all. Yes! You guessed it right. We are going to Hassan. Overnight at hotel in Hassan.

Day 14: Hassan
Have your breakfast and take an excursion to Belur & Halebid. You can experience the beautiful Architecture of Hoysala's. The Chennakeshava Temple one of the finest examples of Hoysala architecture. The Veeranarayan Temple and the smaller shrines are well worth a visit. Overnight at hotel.

Day 15: Hassan - Mysore
Today you will be driven to Bangalore. On arrival check in into hotel. Get refreshed & come with us for a sightseeing tour to - Mysore Palace - This structure is one of the largest of its kind in India. This palace exudes a grandeur that is unmatched. Chamundi hills - Towering over the city, (13 kms from Mysore) Brindavan Gardens - Brindavan gardens is a site to be loved. The musical fountains & colorful lights transform this place into a fairyland in the evening. Spend your night at hotel.

Day 16: Mysore - Bangalore - Mumbai
Drive back to Bangalore to catch flight to Mumbai, where we will provide you a few rooms for wash & change. Later dinner and transfer to International Airport for flight back home.