Discover Rajasthan Tour
Day 01: Arrive Delhi
Arrive at Delhi International Airport from your country. Meet Erco Travels representative after arrival and with their assistance check-in at hotel. Spend the night at hotel.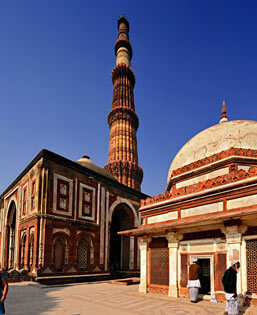 Qutub Minar - Delhi
Day 02: Delhi
Take a full day sightseeing of Delhi's attractions. Blend of both modern and historical attractions, you can see over here. Humauyn Tomb is believed to be the burial place of Mughal ruler Humayun; situated Near the Nizamuddin Railway Station. You can also visit the magnificent red sandstone Red Fort which was built by Shah Jahan in the Old Delhi region. After lunch, you can see some modern sites of the city such as Akshardham temple, India Gate, Parliament House, etc. Overnight: Hotel

Day 03: Delhi - Samode
Take your breakfast and with the help of a guide you will leave for Samode. Check-in at Samode Palace and after having lunch like a king, you will take a round of the palace to watch its architectural splendors, garden and Fort. Overnight: At Samode Palace.

Day 04: Samode - Mandawa
Leave for Mandawa, early in the morning. The city is known for its majestic havelies and forts. Great paintings on the walls of its havelies like Hanuman Prasad Goenka, Goenka Double, Jhunjhunwala, etc. turns every attention to Mandawa. Overnight: Hotel

BOOK NOW

Day 05: Mandawa - Bikaner
With the help of an A.C car you will drive for Bikaner, it will take around 3 hours to reach. After arrival you will be transferred to Laxmi Niwas Palace to take some rest. The palace once was the residential palace of Maharaja Ganga Singh, but now has transformed into a luxury hotel. Visit Lalgarh Palace to witness European Architectural style. Karni Mata temple and Laxmi Nath temple of Bikaner are most famous, give your respect. Overnight: Hotel

06: Bikaner - Jaisalmer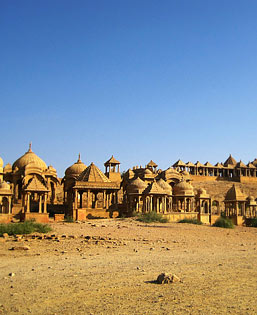 Bada Bagh Chhatries - Jaisalmer
Check-out from hotel and drive to the desert city, Jaisalmer. In the evening, you will reach Jaisalmer. If you got sufficient time then you can move to visit Patwon Ki Haveli. This is one of the largest havelies in Rajasthan and was built in 300 years ago. Overnight: Hotel

Day 07: Jaisalmer
Enjoy breakfast at hotel and rush for city sightseeing. Visit Jaisalmer fort, the fort is situated on a hill that overlooks the city and was constructed to protest enemy entering inside the fort. The rain water Gadisar Lake once was the major supplier of water to the entire town, but now has become a great tourist attraction. While you are at Jaisalmer, you should never miss to experience Camel Riding which is the prominent attraction of Jaisalmer. Overnight: Hotel

Day 08: Jaisalmer - Jodhpur
Whenever you are at Jodhpur, you can witness blue painted house all around so the city also referred as "Blue City". Mehrangarh Fort, one of the most haunted forts in Rajasthan which you can visit during Rajasthan tour. The Fort shows the beautiful view of the entire city. Visit Umaid Bhawan Palace; one of the largest private residencies in the world now is managed by Taj Group. You can make plan to spend the night over here.

BOOK NOW

Day 09: Jodhpur - Luni
Luni is a small town of Rajasthan; situated at a distance of 35 km away from Jodhpur. Check-in at Fort Chanwa; this is the fort where you can see perfect style of Indian architecture. The Fort is a serene spot where tourists can unwind. Overnight: Hotel

Day 10: Luni - Ranakpur - Udaipur
After breakfast drive to Udaipur enrooting Ranakpur. Ranakpur is famed for the most beautiful Jain temple. From Rankapur, Udaipur city is located at a few km distances. The city is known for its spellbinding view. Check-in at hotel and after that do your own activity. Overnight: Hotel

Day 11: Udaipur
City Palace Complex is the most famous attractions of the city which is towering over the most beautiful Pichola Lake. The palace complex is the wonderful blend of Medieval, European and Chinese architecture. Enjoy boat riding on Pichola Lake. Boat riding is the way to reach the most beautiful Lake Palace; situated on Jag Niwas Island Island which is a royal retreat. Nehru Garden, Jagdih temple and Jag Mandir are some other attractions of the city which are mostly visited during Udaipur tour. Overnight: Hotel

Day 12: Udaipur - Dungarpur
Take a morning drive for Dungarpur. Here, you can see the most religious Somnath temple; pay your respect. Approach to the state archaeological museum, to see some great collection of archaeological splendor of ancient times. Overnight: Hotel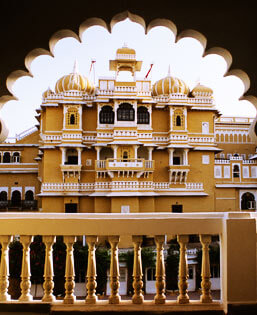 Deogarh Mahal

Day 13: Dungarpur - Deogarh
Today, you will be transferred to Deogarh. The town is famous for its miniature painting which is taught in its schools. One can also be seen Frescoes of this art form on the fort walls. Here you can visit, 17th century's Deogarh Mahal; situated on a hill top, Dashavatar temple Gokal Vilas that are mutually holding the beauty of the place. Overnight: Hotel

Day 14: Deogarh - Pushkar
Drive from Deogarh and appears at Pushkar. Pushkar is a holy city which is known for the massive Pushkar fair. During this fair, the holy Pushkar Lake plays a significant role; thousand of devotees take a holy dip in this water before the fair get started. On the bank of the lake, you can witness the most beautiful and rarest Brahma temple. Check-in at hotel and spend the night.

Day 15: Pushkar - Jaipur
After having breakfast, leave for Jaipur city. The city is also known as "Pink City", due to its Pink painted forts and buildings. The city will let you know about its remarkable histories by showing its magnificent forts and palaces. In the evening, you will visit its local shopping market where you can by some quality of jewellery, shows, clothes etc. at a reasonable price. Overnight: Hotel

Day 16: Jaipur
Start your city sightseeing early in the morning, so that you can explore maximum attractions of Jaipur. Drive to visit Red sandstone 5-storied Hawa Mahal; situated in the heart of the city. Sitting over here, royal ladies used to see the daily life of the nearby area. Amber Fort is one another beautiful attractions of the city; where you will experience elephant riding. Visit to Nahargarh Fort and Jaigarh Fort, you can also keep in your Rajasthan tour itinerary. Overnight: Hotel

BOOK NOW

Day 17: Jaipur - Agra
Today, you will leave for the most beautiful city, Agra. After Agra arrival, you will rush out for Taj Mahal to fulfill your so many years' dream. This white marbled monument is the burial place of the most lovable wife of Shah Jahan, Mumtaj Mahal. Return to hotel to enjoy hotel service. Overnight: Hotel

Day 18: Agra - Delhi
End up your tour and early morning, you will leave for Delhi. Enjoy your lunch at Delhi Hut where you can find all delicious cuisines of all parts of the Indian states. In the evening, you will be transferred to the IGI airport where you will catch your flight and fly back for your own country.