North India Tour with Nepal
Day 01: Arrive Delhi
Reach Delhi International Airport and meet Erco Travels representative. Let them assist you and to guide you up to reach to your hotel. Overnight: Hotel

Day 02: Delhi
Breakfast at hotel and move to visit city attractions according to your plan. Explore its beautiful historical sites of the city which were built by Mughals at their time. Visit the 5-storied red sandstone monument of Delhi, Qutub Minar; located very close to Mehrauli. Red Fort and Jama Masjid are two other attractions of Old Delhi region which are situated just opposite to one another. Come back to hotel at night and enjoy your dinner. Overnight: Hotel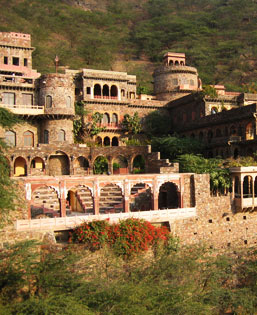 Mandawa Fort

Day 03: Delhi - Mandawa ( 260 Kms /5-6 hrs)
Early morning, you will take a drive to Mandawa. As you reach the city you will be transferred to hotel; take some rest and move for sightseeing. The city, Mandawa is known for its beautiful forts and Havelies. Some of its well known havelies are Goenka Double haveli, Jhunjhunwala Haveli, Hanuman Prasad Goenka haveli, Mandawa Fort, etc. All these havelies shows some curious paintings of bygone era. Overnight: Hotel

Day 04: Mandawa - Bikaner ( 175 Kms / 6 hrs)
Take breakfast at hotel and leave for Bikaner. After arrival, you can visit the most impressive Junagarh Fort. Inside the fort complex, you can see some beautiful palaces, temples and beautiful pavilions that boost up the beauty of the fort. Karni Mata temple, the wold famous temple where Goddess Durga worshipped catches greatest attention during Rajasthan tour. Laxmi Niwas Palace which now has turned into luxury hotel once was the residential place of former king of Bikaner. The palace shows an ideal architecture of Indo-Saracenic. Overnight: Hotel

Day 05: Bikaner - Jaisalmer (330 Kms./6 hrs.)
Today, you will leave for Jaisalmer. After arrival at the city, you will be transferred to hotel. Check-in at hotel and do your own activity at leisure. Overnight: Hotel

Day 06: Jaisalmer
Jaisalmer is a desert city of Rajasthan, where you can expect camel riding. Sitting on the back of a camel you will reach Jaisalmer Fort which was built by king Jaisal in 11th century. Reach Gadsisar Lake, to see its fascinating view. Once the Lake was the source of drinking water of the city but now has turned into a great tourist attraction. Overnight: Hotel

Day 07: Jaisalmer - Jodhpur (290 Kms./6 hrs.)
Jaswant Thada - Jodhpur

Traveling at a distance of 290 km from Jaisalmer, you will reach Jodhpur city. The city is also referred as "Blue City", because the entire houses of the city are painted with blue color. The city features many beautiful palaces, temples and forts that make Jodhpur a popular tourist destination. Check-in at hotel and at night after having breakfast go for a tight sleep.

Day 08: Jodhpur
After finishing your breakfast take a full day city sightseeing. Reach Mehrangarh Fort, the fort is situated on a top hill from where one can easily catch the beautiful scenery of the entire city. The fort shows some great collection of royal family's belongings. Umaid Bhawan Palace and Mausoleum of Jaswant Thada visit you can also take your North India tour itinerary that will surely make your tour worth memorable. Overnight: Hotel

Day 09: Jodhpur - Ranakpur - Udaipur (280 Kms./5-6 hrs) The most beautiful city, Udaipur is situated at a distance of 280 km from Jodhpur. Reach Udaipur via watching the most striking Jain temple of Ranakpur. After Udaipur arrival, check-in at hotel and in the evening, you can visit the nearby areas and shopping markets. Overnight: Hotel

BOOK NOW

Day 10: Udaipur
Take a boat ride early in the morning, on the heart of the Pichola Lake. There is a small island amidst the lake and the establishment of Lake Palace on the island boosts up the beauty of the place. Pay your respect to the deity by visiting Jagdish temple and Neemach Mata Temple. City Palace museum is one another attractions of Udaipur which was built in flamboyant style; considered the largest palace of the city. Overnight: Hotel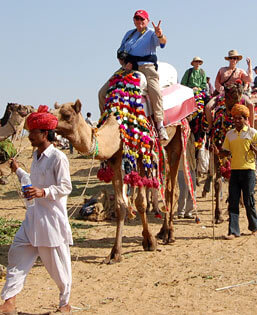 Pushkar fair

Day 11: Uadipur - Pushkar(290 Kms / 6-7 hrs)
Check-out from hotel and drive for Pushkar; at noon, you will reach the city. This is the only city in India where you can find the rarest Brahma temple; situated on the bank of Pushkar Lake. Pushkar Lake plays a very important role during the most famous Pushkar Fair. Savitri (wife of Lord Brahma) temple, you can also visit while you are at Pushkar. Overnight: Hotel

Day 12: Pushkar - Jaipur(135 Kms / 3-4 hrs)
Enjoy breakfast at hotel and after watching some unexplored parts of Pushkar, you will leave for Jaipur. Check-in at hotel and overnight spend at hotel.

Day 13: Jaipur
The capital city of Rajasthan is also known as "Pink City" and is an epitome of magnificence and vibrancy. The city has many historical forts and palaces which draws tourists from every corner to watch its splendors. The magnificent Amber Fort is situated on the hillside of the town; here elephant riding is mostly experienced. The 5 - storied red sandstone Hawa Mahal is situated on the heart of the city which boosts up the beauty of the fort. Jaigarh Fort, Jal Mahal and Nahargarh fort are some other attractions of the city that you can visit during Jaipur sightseeing. Overnight: Hotel

Day 14: Jaipur - Fatepursikri - Agra (265 Kms / 5-6 hrs)
Check-out from hotel and drive for Agra via Fatehpur Sikri. The Fatehpur Sikri Fort once was captured by Mughal emperor Akbar, but very early he left the place due to the scarcity of water. At noon, you will reach Agra. After having your lunch, you will explore Taj Mahal. Watch its splendor sitting on the sprawling garden that lies just in front of the monument. Check-in at hotel and at night; enjoy your dinner with delicious cuisines. Overnight: Hotel

Day 15: Agra - Orchha (240 Kms/5 hrs)
Leave your hotel after having breakfast and move to Orchha. The city is dotted with beautiful palaces and temples of 16th and 17th Century's. Here, you can see the massive Orchha Fort; situated on the bank of Betwa River. Pilgrims will find a great interest by visiting its wonderful temples like Raja Ram temple, Laxminarayan temple and Chaturbhuj temple. Overnight: Hotel


BOOK NOW
Day 16: Orchha - Khajuraho (195 Kms/4 hrs)
Early morning, sitting in an A.C car, you will leave for Khajuraho. It will take 3 hours to reach; after arrival check in at hotel and move for city sightseeing. Kahuraho temples are mostly visited after Taj Mahal, which has been categorized under world heritage site. The curving statues on the periphery of the temples show the unique love of 950 AD's. Overnight: Hotel

Day 17: Khajuraho - Varanasi (Flight)
Today morning, you will be transferred to the nearest airport, to catch flight to the most religious place Varanasi. On arrival with the assistance of our representative you will reach hotel. After that, you can visit the nearest market or can enjoy room service. Overnight: Hotel

Day 18: Varanasi
Get up early in the morning and take a boat ride on the holy river Ganga to watch Aarti made by priests. There are so many bathing Ghats namely Hanuman Ghat, Man Mandir Ghat and Manikarnika Ghat where you can take a religious dip. After that, you will move to visit one of the manifestations of Lord Shiva, Kashi Vishwanath temple. Overnight: Hotel

Day 19: Varanasi - Kathmandu (Flight)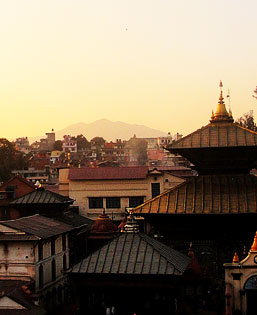 Kathmandu
Check-out from hotel and get ready to fly for Kathmandu after arriving at the nearest airport. Upon arrival in Kathmandu meeting and assistance followed by transfer to Hotel. Overnight: Hotel

Day 20: Kathmandu
Kathmandu offers everything for everybody. Don't miss to visit Durbar Square during Kathmandu tour; basically this is the cluster of temples, palaces and courtyards; known for its exotic carvings. After that, move to visit the most adorned Buddhist places of worship, Swayambhunath Stupa. Return to hotel to spend the night.

Day 21: Kathmandu
Enjoy your morning breakfast and move towards Bodhnath Stupa; this is the largest stupa in Nepal; situated in the north-east region of Kathmandu. If you seek extreme adventure then Kathmandu can fulfill your expectations. Indulge in Bungee Jumping, paragliding and river rafting and measure your adventurousness. Overnight: Hotel

Day 22: Kathmandu - Delhi (Flight)
If you wish to explore more attraction of the city, then you can visit Dakshin Kali temple and Changu Narayan temple. After paying your homage to the deity you will fly for Delhi. Upon arrival, you will check-in at hotel. Overnight: Hotel

BOOK NOW

Day 23: Delhi Depart
On the final day of your North India tour with Nepal, you will be driven by our representative to the international airport where you will catch your flight and fly back to your onward destination.