Land of Buddha Tour
Day 01: Arrive Delhi
On arrival at Delhi meeting and assistance by our Representative at the Airport followed by transfer to Hotel. Rest of the day free for Self- Activities. Overnight stay at Hotel. Delhi is a capital of India and city of historical importance. Mughal emperors ruled India from Delhi itself. Overnight stay at hotel.

Day 02: Delhi
Breakfast at Hotel. Morning proceed for city tour of Old and New Delhi with guide visiting Raj Ghat, Jama Masjid, Birla Mandir, Lotus temple, India Gate, President house and Parliament house. Overnight stay at hotel.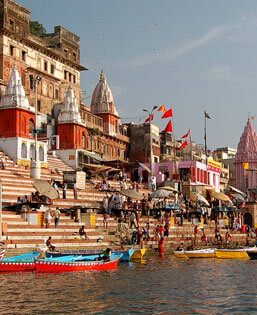 Varanasi Ghat
Day 03: Delhi - Varanasi
Breakfast at Hotel. Rest of the day free. Afternoon transfer to Railway station to connect the Overnight train for Varanasi. (Option, you can also choose Flight instead, but price will be extra).

Day 04: Varanasi
On arrival at Varanasi pick-up from the Railway station and check-in at Hotel. Afternoon excursion to Sarnath visit Dhamukh Stupa, Ashok Pillar, Chowkhandi Stupa, Mulagandha Kuti Vihar. O/night stay at Hotel.



Day 05: Varanasi - Bodhgaya (260 Kms / 6-7 Hrs)
Early morning during sunrise boat ride on Ganges followed by city tour of Varanasi visit various Ghats and Temples on the bank of river Ganges.
Afternoon drive to Bodhgaya - the holy city, where Lord Budhha attained enlightenment. On arrival check in to hotel for overnight stay.
BOOK NOW
Day 06: Bodhgaya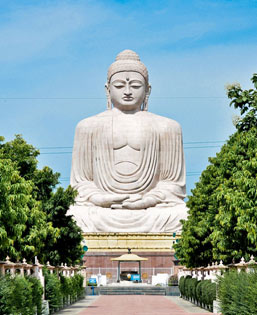 Bodhgaya
Breakfast at Hotel. After Breakfast proceeds for Full day city tour of Bodhgaya visit Bodhi tree, Mahabodhi Temple which marks the spot where Buddha gained enlightenment and set out on his life of preaching, Monasteries, Magadh university etc. Overnight at hotel.

Day 07: Bodhgaya - Rajgir - Nalanda - Patna
Morning drive to Patna. Enroute visit Rajgir -Buddha spent 12 years and the first Buddha council after Buddha attained nirvana was held here. Also visit Nalanda - 19 Kms from Rajgir, Founded in 5th century BC, was one of the world's great universities and an important Buddhist center until its sacking by the Afgans in the 12th century. A credit to the curators, the site is peaceful, clean, well-maintained and perfumed with the scent of roses and shrubs. On arrival check- in at hotel for overnight stay.

Day 08: Patna - Vaishali - Kushinagar
Breakfast at Hotel. Continue drive to Kushinagar Enroute visit Vaishal (where Buddha preached his last sermon) visit Ashoka pillar, Stupas, Coronation Tank, Bawan Pokhar Temple, Chaumukhi Mahadeva etc. Continue drive to Kushinagar. On arrival at Kushinagar. Check-in at Hotel. Evening visit Kushinagar or Kasia - Buddha is reputed to have breathed his last words "Decay is inherent in all components things" and expired at Kushinagar. Visit cremation stupa, Mahaparinirvana temple and modern IndoJapan-Sri Lanka Buddhist center. Overnight stay at Hotel.

Day 09: Kushinagar - Lumbini
Breakfast at hotel and drive to Lumbini. On arrival at Lumbini check-in at Hotel. Rest of day at leisure. Overnight stay at hotel.


BOOK NOW
Day 10: Lumbini- Sravasti
Breakfast at Hotel. Later drive to Sravasti. On arrival at Sravasti check-in at Hotel. Sravasti - Here Lord Buddha performed the miracle of sitting on a 1000-petalled lotus and multiplying himself a million times while fire and water came from his body.

Day 11: Sravasti - Lucknow - Bhopal(Train)
Breakfast at the hotel and drive to Lucknow (4 hrs drive) Train station to connect overnight sleeper train for Bhopal at 19. 50 hrs. Overnight in train.

Day 12: Arrive Bhopal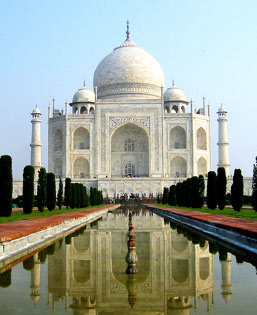 Taj Mahal - Agra

Arrive Bhopal at 06. 00 hrs. On arrival at Bhopal. Pick-up from the Railway station and check-in at Hotel. Evening visit stupas of Sanchi. Overnight stay at Hotel.

Day 13: Bhopal - Agra (Train)
Breakfast at Hotel. Intime transfer to Railway station to connect Day train for Agra 14. 50-20. 35 hrs. On arrival at Agra pick-up from the Railways station and check-in at Hotel. Overnight stay at Hotel.

Day 14: Agra - Delhi
Breakfast at hotel. Morning visit Taj Mahal. Taj Mahal-The Eternal symbol of India and Agra, built in white marble. Taj Mahal was built by Mugal Emperor Shahjahan for his Empress Mumtaz Mahal. 20,000 workmen worked for 22 years to complete it. Afternoon drive back to Delhi. On arrival at Delhi check-in at Hotel. Overnight stay at Hotel.

Day 15: Delhi
Breakfast at the hotel. Full day free to relax. Overnight stay at hotel.

Day 16: Depart Delhi
Early morning pickup from the hotel and transfer to airport to connect flight for Home .

BOOK NOW